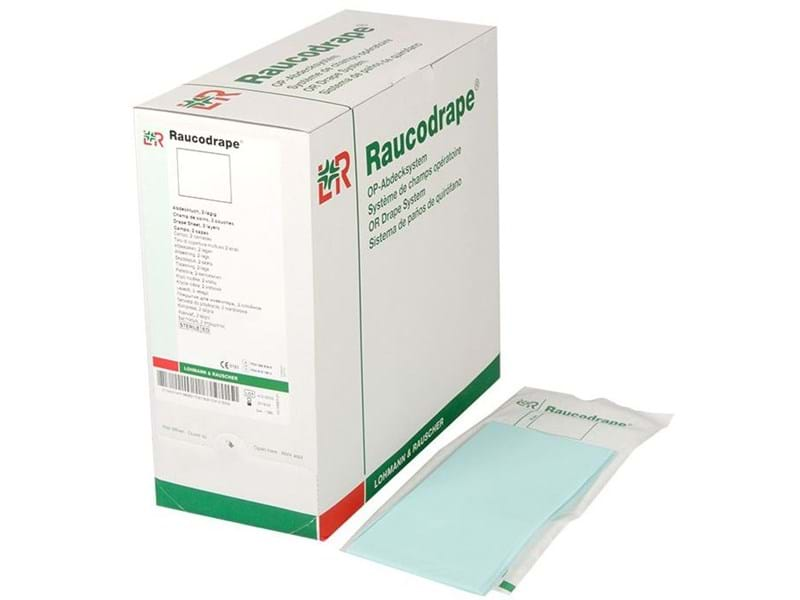 L&R RaucodrapePRO Fenestrated 2-layer drape Adh 50cm x 60cm BOX70
SKU: COBDLR5060
&R Raucodrape PRO Fenestrated 2-layer drape Adhesive 50cm x 60cm
Raucodrape PRO drapes are recommended by Lohmann-Rauscher for operations with low to medium amounts of fluids.

Raucodrape PRO surgical fenestrated drapes are made from natural rubber-free raw materials and exceed DIN EN 13795 standards. Thanks to the self-adhesive area around the cut, they adhere securely during the whole operation. The Raucodrape material is double-layered and moisture-proof.


Product Details
Raucodrape PRO fenestrated surgical drapes

Sterile disposable drape with cutout

The area around the cutout is self-adhesive for a secure hold

Sterile, individually sealed

Moisture-proof material: Double-layered (PP fleece and PE foil)

Suitable for operations with normal amounts of fluid

Very flexible material drapes well, yet tear-resistant

Absorbent over the whole surface

Safe protection against bacterial penetration

Exceeds the requirements of DIN EN 13795

Made from raw materials with no natural rubber latex

User-friendly drape folding

3-part adhesive strip for simple application

Sterile packaging designed with 2 self-adhesive documentation labels

Simple drape removal from closable dispenser box

Individually sterile sealed

Available in various designs
Please Log In for Purchase.